AYA SEAHOTEL
COME, RELAX AND ENJOY OUR ROOM WITH A SEA VIEW
---
Coming on holiday to Mallorca and sleeping with the murmur of the waves in the background isn't mandatory, but we love it! And if this experience doesn't cost you a small fortune, even better.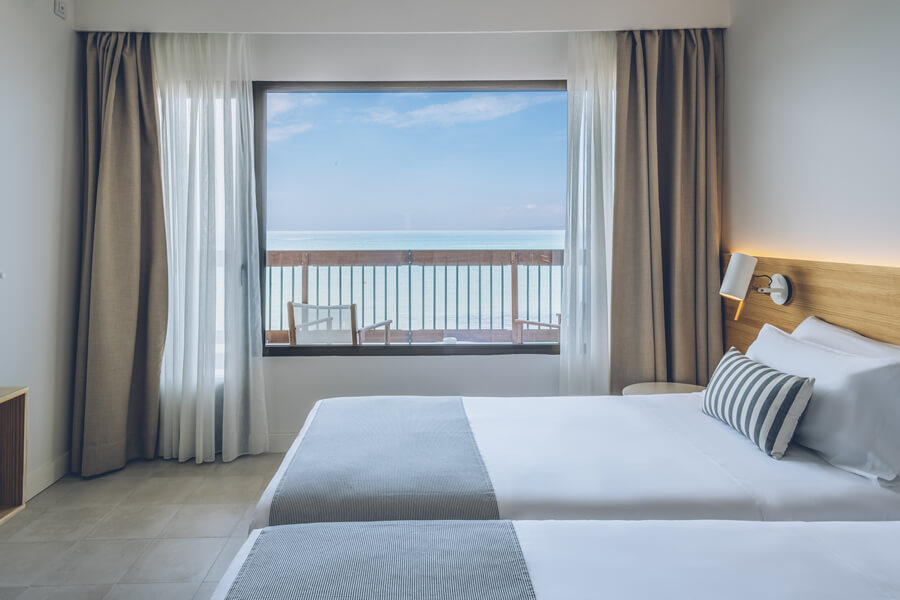 You can live this experience in any of our beautiful double rooms or in our suites with amazing seaviews.
When walking into your sea view room, the first thing you will discover is a large, well-lit and pleasant space. If you look a bit more, you will notice that the room has a terrace and some impressive views of the open sea that will take your breath away.
From the terrace, or even from the bed of your hotel with a sea view, you will have an excellent vantage point of Playa de Palma and the city's bay. You can see in the distance the beautiful Cathedral of Mallorca, the Bellver castle on top of a small hill, and, in the distance, a part of the Tramuntana mountain range.
After a busy day discovering Mallorca, there is nothing quite as relaxing as trying some wines or a glass of good champagne in the privateness of your terrace and enjoying the sunset of Mallorca on Playa de Palma, which thanks to the hotel's orientation is spectacular.
The incredible views, the smell of the sea, the marine breeze and the last rays of sunlight can make this experience stay in your mind for a long time, and you will reminisce it every time someone mentions the word "Mallorca".
Our sea view rooms are the perfect base for your beach holidays. All you need to do is walk out of the hotel and after a few meters you will be treading on the sand. And at night, don't get too comfortable for you have to try the Mallorcan nightlife: because you are very close to the entertainment hubs, you will be able to get back before you get too tired.
And, for last, don't forget the other advantages of being in a hotel with a spa in Playa de Palma: enjoying, whenever you most need it, a relaxing Turkish bath or a sauna, and quickly recover all your energy.
Don't think twice! Come to Mallorca on your next holidays and stay at our hotel with sea views, the best scenario for enjoying some good beach holidays.