CICLISMO
ENJOY THE BEST CYCLE-TOURING IN MALLORCA WITH EASY - TOURS AT THE AYA HOTEL
---
It's eight o'clock in the morning. You open one eye, and the first thing you see is the blue of the Mediterranean through the window of your room at the Aya Hotel. You get out of bed with a desire to do something different, something that makes you feel good, something that'll make it (even more) worthwhile having come on holiday to Mallorca. You like our beach hotel in Palma de Mallorca, but today you hanker after something different to make your stay on the island 100% enjoyable.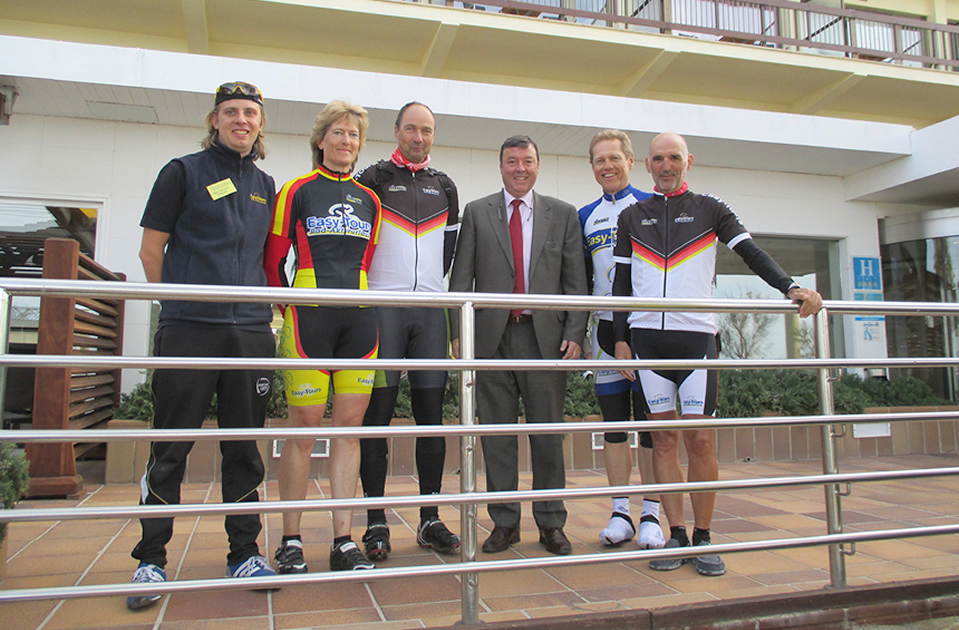 Let's go cycle touring! Do you want to see Mallorca from the saddle? Cycle along the island's southern coast? With the sea breeze riffling your cheeks, the cliffs and coves of Llucmajor look a whole lot better still.
Easy - Tours is the official cycle touring partner of our hotel for sportspeople and lovers of sport. The excursions that we organize for guests of the Aya Hotel are perfect for everyone since they're suitable for groups of all ages and abilities, from beginners and enthusiasts to professionals.
Excursions with Easy - Tours include a bicycle, a guide, a route map, a picnic, a backup transport service in case of need, and personal technical assistance. You'll be able to choose from various types of bicycle (road, trekking, mountain, etc.); or, if you prefer, you can bring your own. At the hotel we make available to you a private parking area for your bicycle, plus workshop, maintenance and laundry services and a shop stocked with products for cyclists.
We expect of you only three things: that you enjoy cycling, that you're interested in seeing Mallorca from the saddle and that you have a yen to rediscover this thrilling sport.
There's no doubt that this is a fine way of spending a different day in Mallorca. Book your cycle tour with Easy - Tours and the Aya Hotel, and leave the rest to us. Apart from just one thing, that is: don't forget to relax at our spa hotel in Mallorca at the end of your tour.
You can book your cycle tour with Easy - Tours from mid-February to mid-May. If you'd like to go cycle touring outside this period, enquire at reception in the Aya Hotel and we'll help you.